Matias Culfas: "The power lies with the President Alberto Fernandez, and he is the one who makes the decisions"
Minister of Productive Development of Argentina, matias kulfa, with Spanish investors optimistic. "I have good prospects," he admitted in an…
---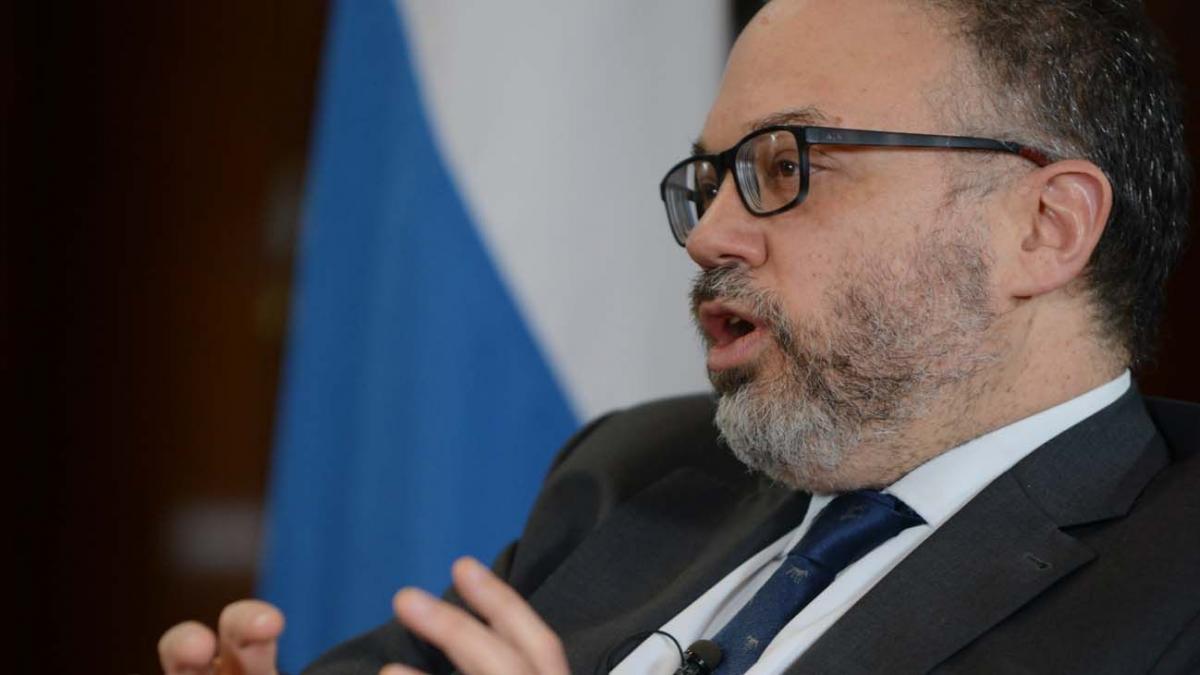 Minister of Productive Development of Argentina, matias kulfa, with Spanish investors optimistic. "I have good prospects," he admitted in an interview. argument,
passing through Barcelona, ​​to attend Green Hydrogen Global Assembly & ExpoA World Energy Forum, admits Kulfus "Disorders" of the Economy Argentina celebrates that the country is On the "way" of their improvement and claim President's Power, Alberto Fernandezin front of the Vice President, Christina Fernandez de Kirchner. "It is he who decides," he insists.
by videoconferencing from a room in Josep Tardales-El Prat AirportThis 50-year-old minister and former general manager of the Central Bank of Argentina, reviews the difficulties and progress of a country in crisis for decades.
– Have Spanish investors expressed particular concern about Argentina?
-Things related to industry in general, consistency, respect of rules, that they are clear. It's basic to building great projects over the long term. Argentina has been burdened by these difficulties for 20 or 30 years. Entrepreneurs want a guarantee of peace to invest and we are working on that. We see a very positive outlook.
We are on the path of gradual normalization of the economy despite difficulties
– You talk about giving stability, rules, certainty, but how to guarantee Spanish investors who, in quotes, are punished?
The reality is that there are still conditions of uncertainty that have not gone away. This is an issue on the government's agenda that concerns us, but we are working hard with investors, including Spanish ones, to show them that we are on the way to a gradual normalization of the economy despite the difficulties .
– Businessmen insist that the conditions are not met or, in other words, the magic word, "confidence" is not in their registry with Argentina
– I have no doubt some people will tell you this, but look: we are actually experiencing a very favorable growth in the productive sector, despite the macro-financial crisis and the pandemic. Our national and international investment levels are 30% higher than pre-pandemic levels.
Obviously, for an investor, it's not easy to project with messy macroeconomic variables.
-I pass on the message I hear: We can't predict the value of currency to the parent company, we don't know how much they're going to tax us, nor how far inflation will go or what unions are going to do. going…
– We know about the difficulties. Obviously, for an investor, it is not easy to project with disorganized macroeconomic variables, but I emphasize: we are working on a macroeconomic generalization, to show that Argentina is full of opportunities. We do not deny the problems but today we are more organized than a year ago and better than two years ago, although the efforts are still less. Yet, since our government started, we have recorded 1,321 investment declarations.
Which sectors are the most attractive?
There is a lot of international and national investment in development with a strong pivot in energy, mining, knowledge economy and industries. But it is spreading in different areas. There are opportunities that many investors view positively.
When there is so much suffering in Ukraine and Europe we can't talk about profit (for war)
-Ukraine was what Argentina was years ago, "the world's granary." Have you benefited from the war in terms of exports?
With so much suffering in Ukraine and Europe, we cannot speak of profit in any way. On this basis, I would not say in the short term that the struggle has benefited us financially. It is true that export prices have firmed up, but it is also true that energy prices have risen.
-But Argentina is also potentially rich…
-Argentina is a country which is close to gas self-sufficiency, it has reserves dead cow Which allows you to have more, but we lack infrastructure development. Because of this we have to import something and it is very expensive. Also, this war has created an inflationary problem that affects the whole world. But in the case of Argentina we start with a higher level of inflation than the rest.
For us, obviously, 10% inflation makes us a little jealous.
In Europe it is a nightmare that was forgotten but you are used to living with it. What inflation forecast do you have planned for the end of the year?
The projection of inflation is the responsibility of the Minister of Economy. So no, no, I don't want to take away your job. What is happening in Europe is shocking to the Spaniards and Europeans. For us, obviously, 10% inflation makes us a little jealous. Hopefully we can get to that level and then seriously consider reducing it to a single digit. But the truth is we already come from 15 years with two marks And for various reasons, we did not succeed.
– What do you attribute to this?
in our governmentWe only managed to get 36 percent In the year 2020 and we live it as something positive. Then came two international shocks, the pandemic and now the war in Ukraine.
Plans to reach 200 million tonnes of grain
In any case, there are more exports…
-We try to give additional boost to increase grain production. There are plans to reach 200 million tonnes, but this is not possible in the short term. They are long term strategies.
– What time are we talking about?
-There is an interesting growth that will start to appear in the coming years. We aspire to expand agricultural campaigns (wheat, maize, soybean…) but need time to appreciate the results of these policies. we hope it will be appreciated at the end of this decade.
-There are foreign investments required for large projects which are resisted by barriers to repatriating dividends, accessing the exchange market…
We as a government are not comfortable with the level of restrictions that we expect to be able to gradually eliminate in the coming years.
Argentina is probably the country that hates the IMF the most, but in the end it turns out to be its savior.
-(Smile) We have made an agreement with the IMF which we consider good and fair. Now, we would never have gone to funds to refinance loans or stabilize the macroeconomy, as Mauricio Macri's government did. It was a dialogue in this context which we consider necessary.
In Spain I was surprised to see how the debates are now, they were more liberal than before
,If tensions arise within the government between President Alberto Fernández and Vice President Cristina Fernández de Kirchner, how can business be reassured that their investments will not be affected?
– The debate is going on, we are not going to deny it. Those are public debates, but, without escaping the question, the world is experiencing a very strong polarization. In Spain I was surprised to see how the debates are now, the situation more focused than they were before. The same thing happens in the USA, Brazil, Chile … and Argentina is no exception, there are contradictions in front of everyone (government alliance) but we share the same country model and if it goes to the opposition together for change The scenario is similar. the world is changing.
In Spain, the contrasts we're talking about happen with PODEMOS and PSOE, right?
-But the polarization is usually between the ruling party and the opposition, not the president and his number 2 (Christina Fernández de Kirchner) and even more so when it is realized that the real power is in him and not in him.
The reality is that the power lies with the President and he is the decision-maker. Of course he listens to everyone. In Spain, the contradictions we are talking about happen with Podemos and PSOE. Or, isn't it?
Matias Culfas: "The power lies with the President Alberto Fernandez, and he is the one who makes the decisions"
2022-05-23 02:47:56