Ancelotti: "Hazard is going to stay at Real Madrid for another year"
2022-05-14 11:51:53 Real Madrid will visit Cádiz tomorrow (7:30 pm, Movistar LaLiga) to reflect on their preparations for the Champions…
---
2022-05-14 11:51:53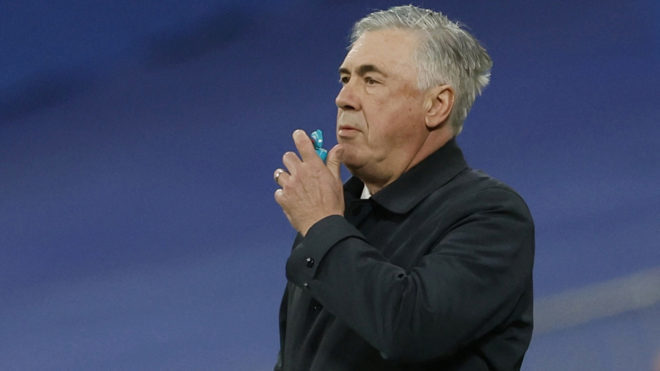 Real Madrid will visit Cádiz tomorrow (7:30 pm, Movistar LaLiga) to reflect on their preparations for the Champions League final. After training, at around 12:30, Carlo Ancelotti held a pre-match press conference with his team to go over the current situation.
If this is the best locker room ever
This is a very high level locker room. Professionally first. There are no arrogant people, everyone has a lot of respect for the kit man, physio… the quality of the character is great. It hasn't been easy for me to find her in my career, I have more complicated dressing rooms.
levanti dynasty
In football, in sports, there are wins and losses. It happens to everyone, it happened to me too, it happened to all the coaches. We have to keep in mind that this is a game, just a game. It's perfectly normal to feel sad when things don't go well for you, but then you have to look forward with energy.
words of sala
Salah has said that in his position he is the best in the world and I think he is right. I agree with him. In his position, yes, he is the best in the world.
Madrid to stay or go on vacation
To live to live. You live well, eat well, have a nice atmosphere, the weather helps a lot. Madrid has to live, not go on vacation
If Hazard Will Have Minutes
I thinks. There are many games, there is fatigue, there will be twists, although there have not been many this year. Everyone can have their chances. Being a starter on a great team is very difficult for everyone, not just the players who play less. I still think that the quantity of minutes is not as important as the quality. This year we have the clear example of Rodrigo, who hasn't played many minutes, but has played quality and made a difference.
Who has disappointed you the most and who surprised you the most
None of them disappointed me, I was surprised by the ones I knew little about: Valverde, Rodrigo, Camavinga… Vinicius didn't surprise me because he has this talent, he showed it, now He has gotten better at finishing. Deira Rodrigo, Camavinga and Valverde.
If you want to renew Marcelo
We just haven't talked about what he's going to do next season. We have the final, a very important challenge, and then we'll talk about everything, including Marcelo's position.
future of danger
We haven't talked about it. His plan is quite clear: he lives and he does it with great motivation because he hasn't had a good time in recent years and wants to show his quality. He lives to prove his worth.
if you like it to be the last
We have to respect the calendar. We are doing well for the finals.
rest benzema
I have given her two days because I think she is worth it. Tomorrow I'm going to pass it on to Vinicius and Courtois. Carvajal, Ceballos, Hazard are back… We're planning well. Next week they will all be back.
locker room speech
The players know very well how we have to reach that objective: commitment, intensity… This applies to tomorrow's game as well.